All the Money in the World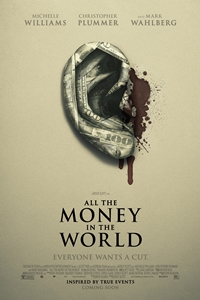 ALL THE MONEY IN THE WORLD follows the kidnapping of 16-year-old John Paul Getty III (Charlie Plummer) and the desperate attempt by his devoted mother Gail (Michelle Williams) to convince his billionaire grandfather (Christopher Plummer) to pay the ransom. When Getty Sr. refuses, Gail attempts to sway him as her son's captors become increasingly volatile and brutal. With her son's life in the balance, Gail and Getty's advisor (Mark Wahlberg) become unlikely allies in the race against time that ultimately reveals the true and lasting value of love over money.
Details
Drama
Suspense/Thriller
2 hr. 12 min.
Opened 12/25/2017
Director
Ridley Scott
Cast
Mark Wahlberg
Michelle Williams
Christopher Plummer
Timothy Hutton
Romain Duris
Writer
David Scarpa
★

Playing At
Coming Soon to a location near you.
Featured Coming Soon