Show Dogs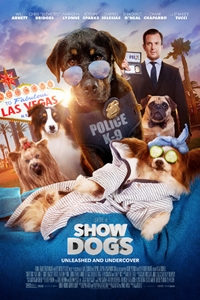 Starring Will Arnett, Chris "Ludacris" Bridges, Natasha Lyonne, Jordin Sparks, Gabriel Iglesias, Shaquille O'Neal, Alan Cumming, and Stanley Tucci, SHOWDOGS is a family comedy about the unlikely pairing of a human detective (Arnett) and his canine partner (voice of Chris "Ludacris" Bridges), who has to go undercover at the world's most exclusive dog show to solve his biggest case yet.
Details
Comedy
1 hr. 32 min.
Opened 5/18/2018
Director
Raja Gosnell
Cast
Will Arnett
Natasha Lyonne
Chris "Ludacris" Bridges
Jordin Sparks
Gabriel Iglesias
Writer
Max Botkin
★

Playing At
Coming Soon to a location near you.
Featured Coming Soon