Dr. Seuss' The Grinch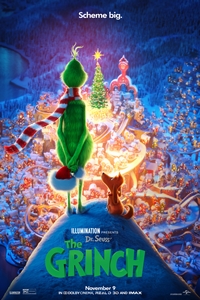 The Grinch tells the story of a cynical grump who goes on a mission to steal Christmas, only to have his heart changed by a young girl's generous holiday spirit. Funny, heartwarming and visually stunning, it's a universal story about the spirit of Christmas and the indomitable power of optimism.
Details
Animation
1 hr. 30 min.
Opened 11/9/2018
Director
Peter Candeland
Yarrow Cheney
Cast
Benedict Cumberbatch
Rashida Jones
Keenan Thompson
Cameron Seely
Angela Lansbury
Writer
Michael LeSieur
Tommy Swerdlow
Dr. Seuss
★

Playing At
Coming Soon to a location near you.
Featured Coming Soon