Theatre Information
10600 Common Oaks Drive
Raleigh, NC 27614
Movieline: (919) 453-2746
General Admission
2D
3D
Adult
$11.00
$14.00
Matinee

before 5PM
$9.00
$12.00
Child

2-11
$8.25
$11.25
Senior

62+
$8.25
$11.25
Early Bird

1st show before 2pm Mon-Thu
$7.75
$10.75
Tuesday Family Night

All Seats
$8.25
$11.25
Military
$9.50
$12.50
Military discounts available with ID.
Concerts - price determined by event
Movie Magic passes are not valid on 3D features, special events, or the first 14 days on a regular feature play.
Complimentary passes are not valid on 3D features or special events unless noted.
Family night pricing not valid on holidays.
Featured Coming Soon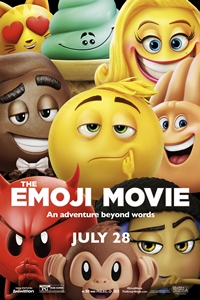 The Emoji Movie

July 28
Employment Opportunity
We are now hiring Service Staff to assist in the daily operation of the facility. All candidates must be able to work as team players and willing to work weekends and holidays. Please apply online or at the theatre.
Showtimes for Wednesday, July 30, 2014